JADE FRESH is a Kenyan company that specializes in exporting fresh vegetables and fruits to Europe and the UK. We are dedicated to supplying high-quality and safe produce, while also improving the livelihoods of families along the supply chain.
We offer a wide range of fresh vegetables and fruits, including French beans, peas, baby vegetables, chillies, herbs, avocados, passion fruits, and mangoes. Our product list is constantly growing and evolving as we continue to expand our operations.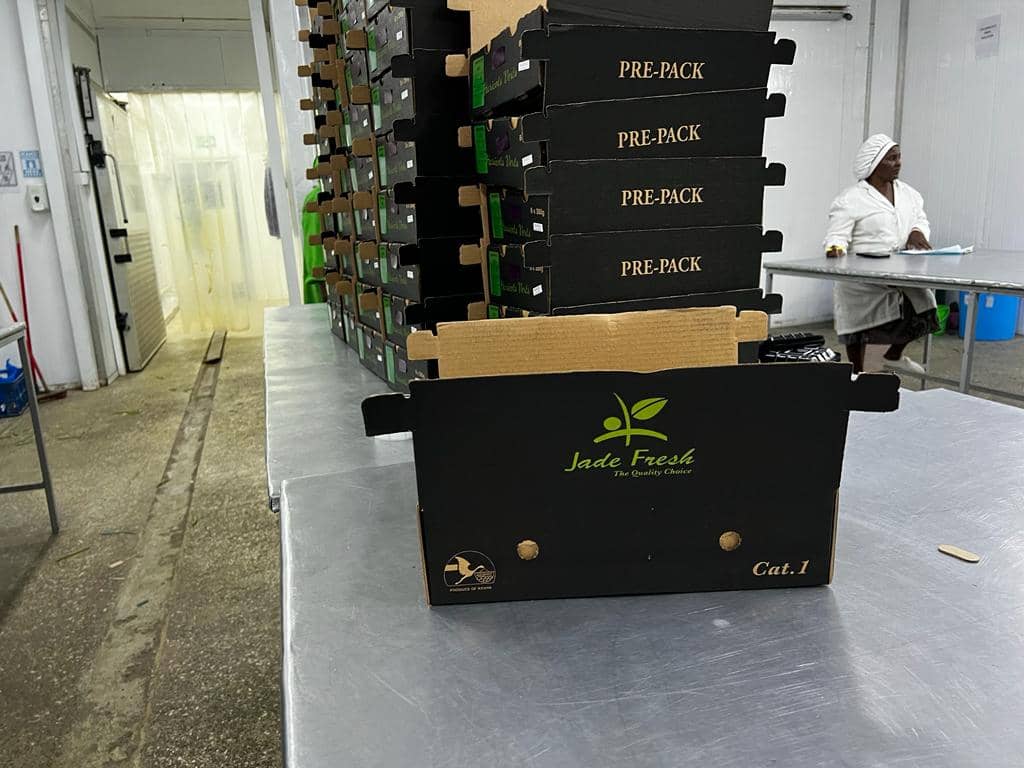 Our temperature-controlled packing facility is located just 10 minutes from the Jomo Kenyatta International airport cargo hub, providing us with a distinct advantage in managing the temperature control of our products during transit.
To provide our select markets with safe, quality and ethically produced fresh food, while empowering and uplifting the living standards of the most vulnerable – the youth and women in Kenya.
Our vision is to be the exporter of choice in Africa in fresh produce serving UK and the larger Europe.
We exist so that we make available to mankind, food that is healthy and nutritious just the way that God intended it to be from the beginning.
Core Values
Integrity
Reliability
Honesty
Fair Trade
At Jade Fresh, we are committed to providing premium quality products and services to our customers. We believe in safe-to-eat produce and aim to supply our customers with ethically-sourced, fresh vegetables and fruits. Our promise to our customers is as follows: viverra nibh cras pulvinar. In massa tempor nec feugiat nisl pretium.
Premium Quality of Product and Service
We pride ourselves in providing high-quality products and services to our customers. Our vegetables and fruits are grown and harvested with care, ensuring that only the best reach our customers. Our commitment to quality extends to our customer service, where we aim to provide a seamless experience from start to finish.
We understand the importance of food safety, and that's why we make sure that all our produce is thoroughly checked for quality and safety before it leaves our facility. Our packing facility is temperature-controlled, ensuring that our produce remains fresh and safe throughout the supply chain.
We understand the importance of a steady supply of fresh produce, which is why we make sure to have enough stock to meet our customers' needs. Our packing facility is located close to the Jomo Kenyatta International Airport cargo hub, which means we can manage temperature control between dispatch and delivery, ensuring on-time deliveries.
Ethical Trading across the Supply Chain
We believe in ethical trade and are committed to ensuring that our farmers, field staff, and suppliers adhere to ethical trade standards. We are SMETA certified and undergo both announced and unannounced audits annually to ensure that we are meeting these standards.
We believe in doing our part in preserving the environment, which is why we encourage the use of drip irrigation to conserve water, use solar energy for water pumping, and implement integrated pest management to reduce the use of pesticides. We also believe in recycling waste and conscious waste management.
We believe in building long-lasting relationships with our customers and partners, which is why we strive to be a trusted and reliable partner. Our goal is to provide our customers with the best products and services, and to make sure that our customers are satisfied with our products and services.
Certifications and Standards
At Jade Fresh, we take pride in maintaining high standards in all aspects of our operations, from the production of our fresh vegetables and fruits, to the ethical treatment of our employees, suppliers, and the environment. We are committed to adhering to the industry's leading certifications and standards to assure the quality and safety of our products.
Customers Complaints Procedure
At Jade Fresh, we are committed to transparency, efficiency, and compliance in our customer service practices. To ensure that you, our valued customer, are always well-informed about our approach to addressing your concerns, we proudly present our: Customer Complaints Handling Procedure.